— By guest author Frank Menendez
Since July 2010 municipalities in Florida have been allowed to use red light cameras on state-owned intersections and fine drivers who run red lights with the aim of enforcing "safe driving." Mmmhmm…sure…and a big money maker for the cities!
Have you received a red light camera ticket? Unlike being pulled-over by an officer and receiving a traffic ticket, you won't know if you ran a red light at one of these photo enforced intersections until you receive a "Notice of Violation" in the mail.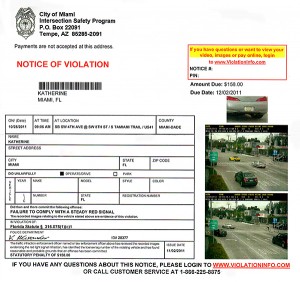 At this point, you can do two things with your red light ticket:
1) Pay the $158 fine (which will not result in points assessed against your license) and forget it, or
2) Do nothing and allow the violation to turn into a $277 "Uniform Traffic Citation" (an actual traffic ticket).
Wait a sec… why would you let $158 notice of violation, which carries no points, turn in a $277 traffic ticket to begin with!?!
Simple. To fight back and get your red light camera ticket dismissed! Yes, this is possible, and although the increased fine is incentive NOT to fight, we do it all the time.
However, because every case is different, it is important you contact an experienced red light camera ticket attorney before you do anything.  At TicketFit, our red light camera ticket lawyer is available to discuss your case, call us now at (305) 775-3720.
In the event you did not receive a Notice of Violation, and instead received a traffic ticket, it is important you contact us right away to avoid additional costs and possible license suspension.